Online Reputation Management & Marketing
FAQ:  What Is Online Reputation Management?
Online Reputation Management (ORM) is the process of monitoring and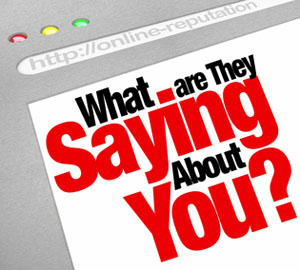 responding to what people are saying about you online.
If you are like many business owners you may think that you are managing your online reputation if you are responding to negative reviews on Yelp.  When in reality there are hundreds of large & small review sites and obviously Yelp is just one of them.
Think that online reviews aren't really a big deal for your business?  Think again!
Why Reputation Management Is So Important
The fact is that:
3 out of 4 consumers say 

online reviews are a major factor

in deciding whether or not they will buy a specific product/service & what company they will buy from

Consumers look at an average of 10 reviews

before they decide what to buy
It

takes 6 to 10, "5 Star Reviews"

for a company to be trusted in the eyes of a potential customer
Why Yelp Isn't The Answer
Sites like Google+, Merchant Circle, Kudzu, City Search, Trip Advisor and many others are also important when it comes to building a 5 Star Online Reputation.  The fact is that Yelp reviews are filtered (or semi-hidden) on their site…making it harder for readers to find & read the reviews.  Many of the filtered (or semi-hidden) reviews are 5 Star Reviews!  Yelp claims that their filtering algorithm detects potentially "fake" reviews.  What I've seen on numerous occasions is "real" reviews getting filtered out and even "fake" reviews being displayed for all Yelpers to see!
My point being, if you are to build a solid 5 Star Reputation you shouldn't leave your online reputation solely in the hands of Yelp!  You need to proactively monitor and respond to reviews on numerous large and small review sites.  But how can you possibly fit that into your already busy work schedule?  That's where we come in.
We Go Beyond Just Management!
I said above that Online Reputation Management is "monitoring and responding" to what people are saying about you online.  But there really is a whole lot more to building a 5 Star Reputation than just "monitoring and responding to negative reviews".
You should also:
Provide an excellent product or service
Deliver great customer service
And, do the following to "Market/Promote" your reputation so you get more customers:
Request reviews from current and past customers
Give your customers the option of leaving a review directly on your website/blog
Respond to ALL positive & negative reviews left on your website
Proudly display online reviews from across the internet on your website and/or blog site so visitors get the big picture of your online reputation
Share your positive reviews on your social media profiles for your fans, followers & social media surfers to see
We provide consulting and Reputation Management & Marketing services that address all of the "Market/Promote" necessities mentioned above so you get more customers.
We can help you build a solid 5 Star Online Reputation and out shine your competition because most of them haven't caught on to the importance of online reviews yet!
Request FREE Online Reputation Report or Contact Us
Request a FREE Online Reputation & Visibility Report by clicking here.  Your report will take 3-5 days to compile.  Once it's ready, we will go over the report with you via an online meeting and answer any questions you may have about your online reputation and visibility.
Don't want to wait for your Free Report?  Contact us to find out how we can help you build, manage and "market" your great online reputation.