Mobile Websites & Mobile Marketing
Why You Need A Mobile Website
One of Google's search engine ranking factors is whether or not a website is optimized for display on mobile devices.  They have stated that they prefer "mobile responsive" websites but having a separate "mobile optimized" website is also an option.
Why does Google want you to have a mobile responsive or mobile optimized website?  Because they know the following: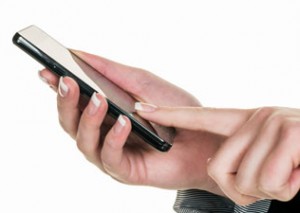 In 2018, users are expected to spend

more time on mobile devices

than they will on desktop computers
Over 60%

of smartphone & tablet owners search for local businesses on their

mobile

devices
Over 40%

of mobile users

do not trust

companies without mobile websites
Mobile "Marketing" Is More Than Just Mobile Websites
Having a mobile website, or a desktop site that is optimized for viewing on mobile devices, is just one form of mobile marketing.  The cutting edge trend of mobile marketing includes the following:
Mobile Coupons – There are various types of mobile coupons that can be generated but the most fun for end-users has to be a mobile scratch off coupon.  Well on a mobile device the user doesn't scratch the coupon off, they rub off a teaser message with their finger or a stylus to reveal the coupon underneath!
Mobile Customer Loyalty Programs – These are programs that offer a mobile user a discount, freebie or other special offer once they've checked-in to your business a specified number of times or purchased a specified amount of your products/services.  Similar to a loyalty punch card but much more convenient for your customers since they always have their smartphones & mobile devices with them.
Mobile Advertising

– This includes banner advertising on mobile websites

and

mobile pay per click ads that display in search results alongside organic results.
SMS Marketing

– SMS (Short Message Service) marketing, or text message marketing, involves communicating with and engaging your audience on their mobile devices.  You can text the following to your customers and prospects once they've opted in to your SMS list:  coupons, product alerts, appointment reminders, surveys, contest info and so much more!
Mobile Apps

– A mobile app, or application, is software that runs on a mobile device such as a smartphone or tablet.  A mobile user's favorite apps take up valuable real estate on their smartphones and are usually front and center.  If your business has a useful or entertaining app that people will want to download, an app can help your business stay top of mind!
QR Codes – A QR code (Quick Response code) is a two-dimensional bar code that can be scanned with a mobile app.  QR codes can be used to display information, redirect the user to a website or special offer, capture a user's contact info or send a text message to a specific number with a predetermined message such as "send me info".
Contact Us For Your Mobile Marketing Needs
Ready to engage your prospects and customers where they are spending time…on their mobile devices?  Need to implement mobile marketing or have a mobile website designed for your business?  Contact us today for help with your mobile marketing.