The Poway Chamber of Commerce Marketing Advisory Team (MAT) launched their first Marketing Seminar Series, "Developing Your Marketing Playbook", in March of 2013.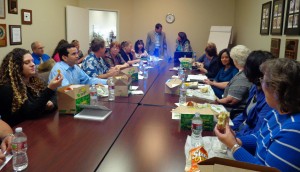 "Developing Your Marketing Playbook" is a series of three seminars that were designed to provide actionable tips that attendees can implement to attract & retain more customers.  The first seminar in the series sold out and had standing room only!  What a great way to launch…
April 10th Seminar Topics & Speakers
The next MAT Seminar on April 10th will cover the following topics:
Making Your Website More Effective – presented by Kevin Gyberg of B2 Software
Attracting Customers via Online Ads & Targeted Remarketing –  presented by Toby Danylchuk of 39 Celsius Web Marketing
If you are interested in attending, I strongly suggest that you register now before the seminar sells out (like the last one did).
Register Now – April 10th – Marketing Seminar
WHAT:  Developing Your Marketing Playbook
WHEN:  April 10, 2013
WHERE:  Poway Chamber Office
VIEW FLIER:  Click here
REGISTER NOW:  Register Now on the Poway Chamber website, click here
The MAT is a committee of the Poway Chamber of Commerce.  It is made up of chamber members with an expertise in marketing and technology and I am honored to be a member of the Team!  I look forward to seeing you at the MAT seminar on April 10th where Kevin and Toby will be speaking.
Cheers,
Kimberly Yow